Paso Fino Horse Custom Porcelain Teapot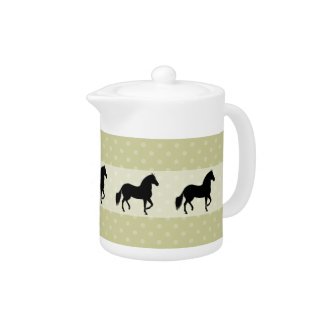 Paso Fino Silhouette Tea Pot
by
azgaitedhorses
Browse more
Paso fino Teapots
If you're looking for a gift for a Paso Fino horse lover, here is one they will love. This Paso teapot complements other kitchen and dining items such as matching Paso Fino porcelain pitchers and candy jars, and Paso Fino woven kitchen towels, placemats, and napkins.
Customize and Personalize
This entire set of Paso Fino kitchen and dining products was created specifically for you to customize. When you choose to "Customize It" from the product page, you select your choice of background color. The horses, semi-transparent dots and band remain as they are. You can choose to purchase this teapot and matching accessories in the soft green shown here or change the color to blue, red, brown, gold, orange, yellow, violet, pink, purple, … well, you get the idea. Everything is in place for you to create your own set of Paso Fino products for your own home or as a gift!
Additionally, you can add text of you own to personalize with a name or to send a special message. You choose just how much you want to customize this item, or purchase it just as it is. Either way, it makes a great gift or addition to your home.
Product Information:
Personalize tea time with a custom tea pot from Zazzle. Made of bright white porcelain, this tea pot looks amazing with your photos, text, and more. Dishwasher and microwave safe, this tea pot is ready to add a touch of custom flair to your home.
11oz. (available also in 44oz.)
100% bright white porcelain.
Dishwasher safe and microwave safe.
Imported. Printed in the USA.